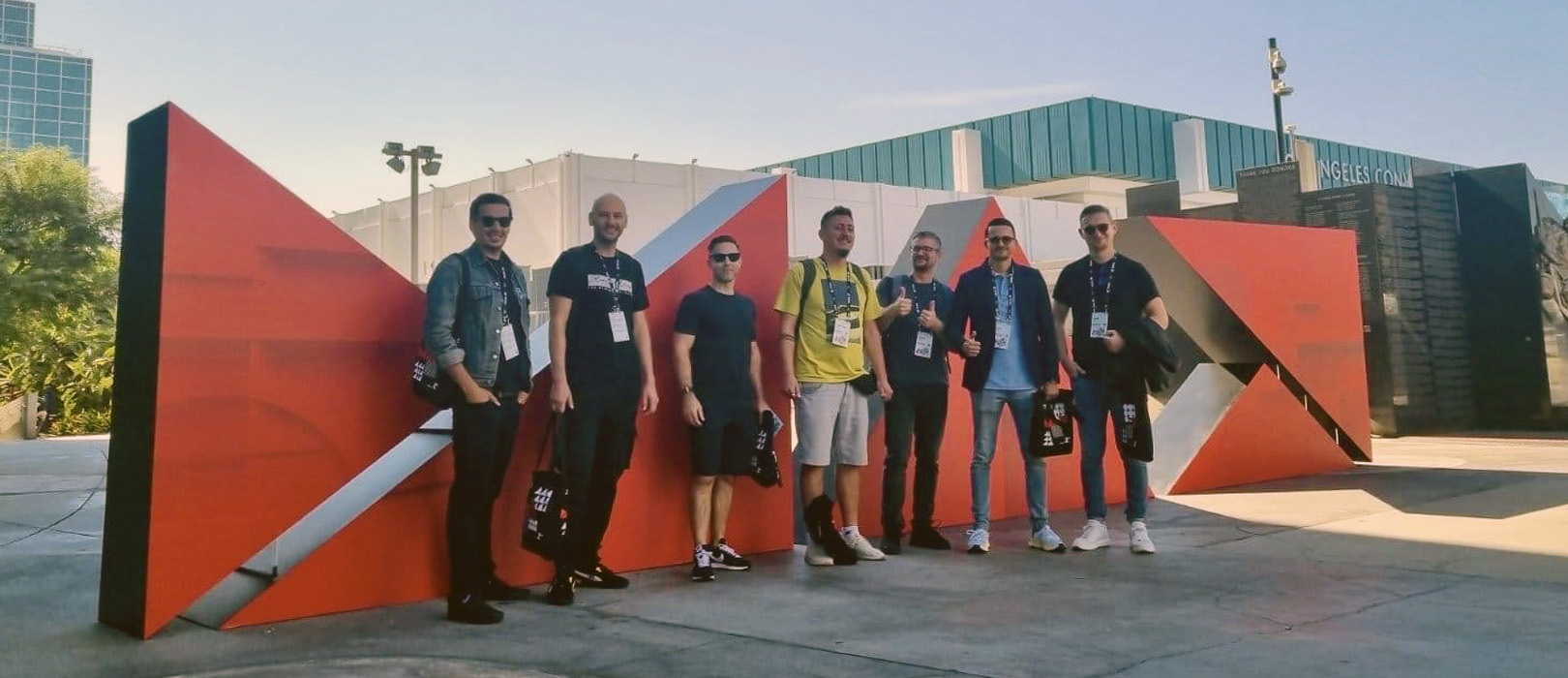 Adobe Max 2022: Next-generation AI-powered creative tools from Los Angeles, California
California Dreamin'
Our first impression of LA was surprising to say the least. Contrary to the noise and rush we had expected, we were greeted with surprising peace and quiet in the very heart of Downtown LA few passers-by, quite organized traffic, peace and quiet is certainly what we did not expect. As we later learned from Ryan, our colleague and host, Downtown LA is a business center and people come here mainly for work, and rarely for pleasure or walking.
Max Adobe Conference – Global Celebration of Creativity
With more than 100 online sessions, hundreds of inspiring speakers and over 200 live sessions with famous guests such as artist Jeff Koons, music producer Steve Aoki, director Sian Heder and many others, AdobeMax conference is certainly vary from others primarily because design, new technologies, creativity are discussed through the tools of the Adobe family and not in general.
About 6,000 people who visited the AdobeMax conference this year have one thing in common. And that is that they all use Adobe tools in their daily work, be it graphic design, UI/UX design, video, photography. So this conference is in a way a promotion of Adobe software and the presentation of innovations and new smart ways in the work process. Listening and learning firsthand, from world-renowned lecturers and users of the Adobe package, is incomparable to anything that can be found online or on paid training videos. Like other participants, we use the tools from the Adobe package every day, and a visit to the conference certainly allows us to speed up and improve the work process.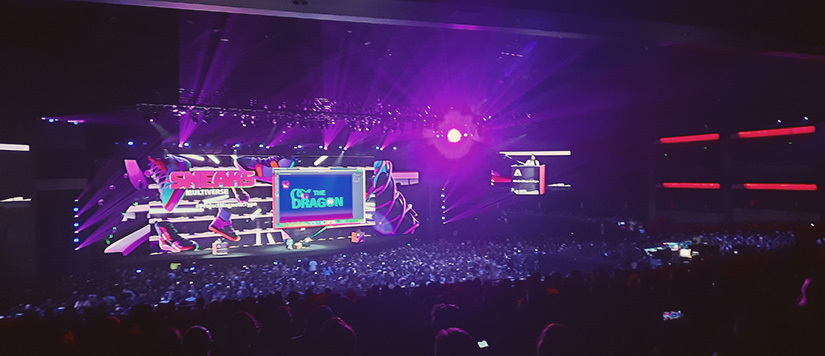 Sneaks with Kevin Hart
This year, the emphasis was placed on the development of AI and how it can help us in everyday work, working in groups, share and review directly through Adobe software, without using third party applications, e-mails, etc. AI, which was presented, is still in the early test phase and not completely developed, but it was certainly interesting to hear what new things the brains from Adobe are working on.
The most exciting part of the Adobe MAX conference is definitely Sneaks, selected announcements for future technologies and ideas from Adobe. At this year's event, hosted by comedian Kevin Hart, Adobe revealed some really great new features and experiments.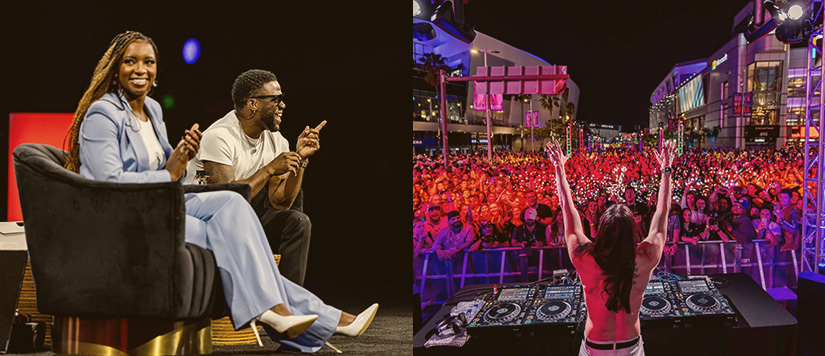 What left a special impression on us?
A flawless organization. The hosts have made sure that thousands of people at all times know where they are and where they need to go. They thought of everything. Such a level is not seen everywhere, and the conference went without the slightest inicident. Actually, at one point the internet went a little crazy during one of the lectures. But that only shows that they are human too, and they don't have our Jovo to fix it for them on the spot 🙂
And there is Max Bash (a huuuge party with art installations, which occupies the entire space of LA Live, including the Crypto.com arena), where all attendees were treated to unlimited amounts of food, desserts and drinks. DJ Steve Aoki started the party, followed by Twenty One Pilots.
Creative industry in the USA or Creative industry in Europe?
We wouldn't say there's a big difference, if there is any at all. This is certainly what we can see online every day, so there are no special surprises. The only difference, we would say, is that they set trends and we follow them. Given the size of the market, it's not that strange.
Best Design Updates
Most useful and innovative, well – definitely Adobe's system of integration of all Adobe software. The ability to share within the team directly from the software, giving a review on the shared content, as well as using Adobe Cloud and creating a library on the cloud. People from Adobe have definitely tried to offer us something new as well as to retain less loyal users.
Adobe Illustrator has a great new tool called Intertwine. It allows vector objects and fonts to overlap, while remaining fully editable.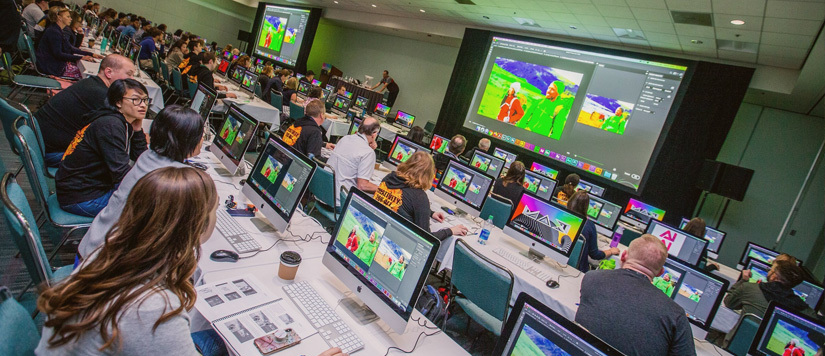 In the meantime…
What to do in LA on your free time? The options are countless. From a visit to the Griffith Observatory, which offers a panoramic view of the entire LA, as well as the well-known Hollywood Sign, Hollywood walk of fame and TCL Chinese Theatre to jazz clubs and great restaurants for all kinds of gourmets.
In Downtown LA, you should definitely visit the rooftop restaurant & bar called "Perch".
In the lower level there is a restaurant area with a beautiful garden (terrace) and the interior of the restaurant and of course fantastic food, and just above is a bar with an exceptional view of the entire downtown LA, especially at night.
Our hosts Ryan and Dani were really great and we can't say enough about them. They really made us feel welcome from the moment we landed to LA until the last day of our stay. We are glad that we finally got to meet the team that we work closely every day, and that is one of the most important segments of our trip to LA.

Written by
Europe Design Team
UX/UI designers